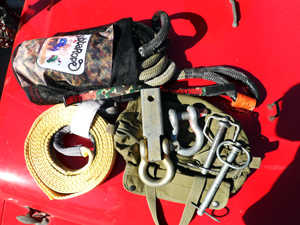 You're in the middle of nowhere stuck in the sand. Your buddy waits patiently while you paw through your car looking for the recovery strap and gear needed to get you out of your bind.
"I know it's in here somewhere!" you scream (along with a few choice words).

Your off-road adventure is becoming a disaster because you either didn't pack a recovery strap, or you packed it so deeply it'll take you a long time to find it.
Sometimes a vehicle is really stuck, but most situations can be resolved with a basic recovery strap (flat or rope). Problem is, the necessary equipment often isn't within easy reach if it was packed at all.
Gear needed for proper recovery
It's quite simple, really: a recovery strap or rope, two D rings, a shackle block and 2 hitch pins.

Recovery straps are typically 2 inches wide and 20 or 30 feet long. That width of strap is usually rated to 20,000 lbs. which is enough for most vehicles. (Check the label to make sure of the rating.)

Recovery ropes, formally called kinetic energy recovery ropes (KERR), are just that: a rope of recovery material. Generally ¾" or 7/8" diameter, they also come in 20 and 30 foot lengths.

Recovery straps are more popular because they're less expensive, run around $20 to $70, and not as bulky. Recovery ropes, sometimes referred to by the brand name Bubba Rope, can run $120 to $180.

Though bulkier and more expensive, I'm warming up to recovery ropes. Why? They stretch more. Recovery straps offer 10% to 15% stretch. That's fine in most instances. Recovery ropes, on the other hand, are designed to stretch up to 30%. That's a significant gain and in my mind worth the added cost. Plus, that added stretch smooths out the jerking motion, making for a more comfortable recovery.


Use recovery straps, ropes safely

Before discussing the recovery process, it's important to review the safety rules. Recovering a vehicle is a dangerous process. It requires your attention to detail.

Make sure the recovery strap(s) you're using don't have any metal hooks sewn in. The strap should have only a fabric loop at each end. And, never use D rings to attach two recovery straps together. Straps are under great tension during the recovery process. If one breaks, any attached metal becomes a flying missile. Severe injury and death can result as mentioned in this article. Deadly Mistakes - Don't lose Your Head While Recovering a Vehicle.

As soon as both ends of the line are connected (but not yet under tension), treat the strap or rope as a "live line." If you need to cross over the strap, step on it, as opposed to stepping over it. If the strap suddenly develops tension, you may be thrown, but you won't suffer a nasty snap burn.

For further protection, I recommend using a heavy blanket as a parachute. Pack one for every off-road trip.

Once the recovery strap or rope is under tension, do not allow anyone to walk between the vehicles. It's best that spectators are kept at a safe distance.



Recovery strap, rope must be accessible

In order for you to recover a vehicle, you've got to have the gear and it must be accessible. It's useless if buried in at the bottom of a box; with two other boxes piled on top; and 3 more boxes you have to move that are in your way. Pack your gear—recovery strap or rope, D rings and hitch pins—in a separate bag. Much like your emergency Go Bag. Store it on the floor behind the driver's seat or some other place that's easily accessible. Then, should the need arise, you can quickly grab your gear and get started.

Gotta save your buddy? Grab your rope or strap, your bag of attachment hardware, and a pair of gloves. The minimal bit of hardware in the bag will let you fasten to both vehicles regardless of what you are present with. If they have a D ring that has been wrenched down so it will not vibrate off, throw one of your D rings on it. No need to go get tools. If they have a trailer hitch, slide in your shackle block and hold it in place with the hitch pin. Have to hook up to a second trailer hitch? Feed the loop inside and secure with your other hitch pin. If they have a hook, do not use any hardware. Just throw the loop over it.

Your recovery gear is as important as a first aid kit and tool kit. In fact, many off-road organizations include recovery gear in the preparation checklist.

If you drive off road regularly, you're bound to experience or encounter a recovery situation. Pack the proper gear and store it where you can reach it easily.
# # # #





Related Articles from Badlands Off-road Adventures

A Primer on Winching, Part 2 A Primer on Winching, Part 1 Don't Lose Your Head While Recovering a Vehicle Store And Use Your Fire Extinguisher Properly

Did you miss the previous articles?

2013-03-15 You Gotta Have Good Wood to Go 4 Wheeling 2013-02-22 Expedient Field Repair - U Joints 2013-02-01 February 2013 Off-Road Adventures Magazine: Rasor Off-Highway Vehicle Area by Tom Severin 2013-01-11 Drive Your Customers To The Edge!

Rest of April, May, and Early June Schedule

(click on the link for details)




##########################

Wilderness Advanced First Aid Course June 7, 8, 9 & 10, 2013

Mark these dates on your calendar or sign up now so you don't forget.

The Wilderness Advanced First Aid clinic will provide you with skills, knowledge and training to handle life threatening medical emergencies and allows you to be better prepared to protect your family in an emergency. Wilderness Advanced First Aid is a four day immersion into general medical concepts and Basic Life Support skills. This course teaches what to do with a medical emergency when help is miles away and calling 911 isn't an option. If you plan to become a Wilderness First Responder, this is the first 4 days of the 8 day Wilderness First Response course. You can take the second 4 days at a later time (within 3 years).

" The Wilderness First Aid was one of the MOST USEFULL clinics I have ever attended, due in large part to the effort you and Josh put in to make it all possible. "
Joe de Kehoe

Note - this is a four day class and you must be at least 18 years old. If you are interested follow these links.

More Details...


You can register directly at http://www.4x4training.com/calendar/calendar.php#WFA




Winch Recovery Bandana


Click for higher resolution image

The Bandana is packed full of useful information and is a quick reference in the field when no DVD player is available."

The Bandana layout follows the "Vehicle Recovery Plan" with pathways to more detail. A unique section of the Bandana, gives the steps for a "Winch Rigging Check: Walk through" so that you verify every element of the rigging before you commit to the pull. Stuff this in your recovery kit and you will always be ready!

Pick up or order the Winching DVD too! There is no substitute for hands on training. If you can, sign up for one of Badlands Off-Road Adventure's Winching Clinics.

Warning – the Bandana and DVD are not a substitute for proper training and use of quality equipment that is used within the bounds of their safe working load. We advise you to use the information provided in both the Winching Recovery Bandana and the "Basic to Advanced Winching and Recovery DVD" at your own risk. We cannot control the quality and specifications of the equipment used and the methods actually employed.






Winch Recovery Bandana Order Button



Order a Basic to Advanced Winching & Recovery DVD too!





I hope to see you on the trails!
Tom Severin, President
Badlands Off Road Adventures, Inc.
4-Wheel Drive School
310-374-8047
http://www.4x4training.com
Make it Fun. Keep it Safe.
#####
If you find this information valuable, please pass it on to a friend. You can forward them the email. If you received a forwarded copy of this newsletter and would like to subscribe for yourself, go to: www.4x4training.com/contacts.html and follow the instructions to join our mail list.
Want To Use This Article In Your Magazine, E-Zine, Club Newsletter Or Web Site? You are welcome to use it anytime, just be sure to include the following author/copyright information: Tom Severin, 4x4 Coach, teaches 4WD owners how to confidently and safely use their vehicles to the fullest extent in difficult terrain and adverse driving conditions. Visit www.4x4training.com to develop or improve your driving skill.

Copyright 2013, Badlands Off-Road Adventures, Inc.

Original author:

This email address is being protected from spambots. You need JavaScript enabled to view it.