4340 vs. 4340 - What's in your axle?
For the original article visit: http://blog.ruggedrocksoffroad.com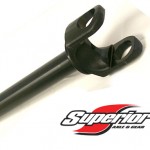 You read it right, 4340 vs. 4340. Not all 4340 Chromoly Axle Shafts are created equal.
I'm going to attempt to explain this without bashing anyones product as much as possible, but the number one question I hear about axle shafts is, "Why would I buy Superior Axle 4340 chromoly axle shafts when brand X has 4340 chromoly axle shafts for cheaper, and have a no questions asked warranty?"
One the of the biggest and simplest answer is, brand X's 4340 chromoly....isn't the same as US 4340.
Let me explain, brand X sends their 4340 chromoly shaft orders out to get manufactured overseas which equates to having a shaft that is marginally better than a 4140 shaft because overseas steel specifications aren't the same as the specifications used here at home in the good ol' USA.
Superior Axle does have two versions of chromoly axle shafts, the Discovery Series and the Evolution Series. The Discovery Series is their overseas model which is probably closer to 4140 than 4340, understand that it's not a 'quality of steel' issue but a 'difference in standards', there is no true "4340" used overseas.  They call it something different and it's close; but, not exactly the same. The Evolution Series is what we're after, the good stuff, strong beefy home bred axle shafts made right here in L.A.  Superior's Evolution Series chromoly axle shafts are made right here in the USA.
Basically, what this all equates to is you taking a minute to ask yourself, if you would rather save a few bucks, possibly break a shaft leaving you stranded somewhere and resorting to that awesome "no questions asked warranty" or, would you rather pay the extra money to help keeping it from breaking in the first place? It really is amazing how few Evolution series axle shafts superior has to warranty out every year....the number lingers around 0.
Superior axle shafts are available here: Superior Evolution Chromoly Axle Shafts