4 Wheel Parts Now Serving the Ever-Growing All Terrain Vehicle Crowd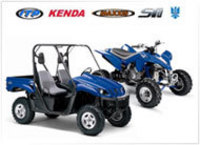 ATV Tires & Wheels
Off-roaders rejoice – now they can get parts for their ATVs at the same quality location they've been getting their Jeep, SUV, and truck parts for over 40 years. 4 Wheel Parts has expanded their already huge inventory by incorporating ATV tires and wheels into their off-road catalog.
Compton, CA (PRWEB) March 15, 2010 -- 4 Wheel Parts, the nation's largest distributor of tonneau covers, Smittybilt products, and other off-road parts for Jeeps, trucks, and SUVs, has taken on their next big challenge: ATV tires and wheels. Also available in stores and over the phone, online customers will be able to get perfect fit ATV wheels and tires every time thanks to the 4 Wheel Parts tire and wheel finder. And since this is a new product, 4 Wheel Parts is offering free shipping for a limited time on all ATV tires and wheels.
Most people who own a truck, Jeep, or SUV also own a secondary off-roading vehicle; this often comes in the form of an ATV. Off-roaders know that ATVs offer a lot of benefits that standard off-road vehicles don't. For one thing, they're lighter, which means they can tackle areas that may be inaccessible to larger vehicles. Since the rider straddles it like a motorcycle, they get a wider range of movement. Plus, they're cheaper. ATV tires and ATV wheels cost significantly less than their beefed up counterparts for trucks, Jeeps, and SUVs.
"We're excited to add the ATV line of wheels and tires," said JD Childers, Internet Brand Manager at 4 Wheel Parts. "We're known for our off-road truck and Jeep wheels and tires. Now we've entered the Powersports market and we hope to provide the same quality products and service."
When a customer heads to the ATV section on 4WheelParts.com, they'll be asked to select some basic vehicle information including the year, make, model, and drivewheel type. The filter will then display all of the ATV wheels or tires that will fit that specific vehicle, saving the customer from the hassle of browsing through endless selections of tires and wheels. At that point the customer can choose to filter by brand, riding type, diameter, or price.
In addition to making it as easy as possible to find the right tires and wheels for each ATV, 4 Wheel Parts has secured a great selection of top manufacturers. Customers can choose from ITP, STI, Maxxis, Super Swampers, and Kenda ATV tires. Then they can complete their tire and wheel package by selecting STI, ITP, or XD series wheels.
They have seen such success with the addition of ATV tires and wheels that 4 Wheel Parts plans to delve even further into the ATV market. Next up: ATV towing components and other accessories for all terrain vehicles. As they continue to grow within the ATV industry, 4 Wheel Parts will be establishing themselves even further as the source for off-roading aftermarket parts.
4 Wheel Parts offers competitive pricing on all ATV tires, ATV wheels, tonneau covers, winches, and much more. To get more information on these off-road parts, call 877-474-4821 or visit www.4WheelParts.com.
About 4 Wheel Parts: 4 Wheel Parts has been a leading provider of tonneau covers, leveling kits, and other off road vehicle parts for over 40 years. Start outfitting your all terrain vehicle with ATV tires and wheels at http://www.4WheelParts.com.
# # #